Last week we talked about Starbucks's recent experiment of serving alcohol in some of its locations. We ended up recommending them to create a second brand. We also said, on our next article we will focus on a successful line extension from Canada: Tim Horton's, one of Starbucks' archrivals. For those of you who are not familiar with the brand, here is how Wikipedia describes Tim Hortons: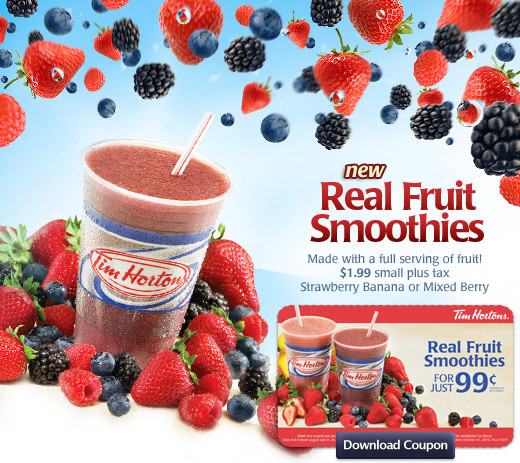 Tim Hortons Inc. is a Canadian coffee shop known for its coffee and doughnuts. It is also Canada's largest fast food service. Tim Hortons franchises spread rapidly and eventually overtook McDonald's as Canada's largest food service operator. Tim Hortons commands 76% of the Canadian market for baked goods (based on the number of customers served) and holds 62% of the Canadian coffee market (compared to Starbucks, in the number two position, at 7%).
While in terms of population Canada is just a fraction of the US, holding 76% and 62% of the baked goods and coffee markets respectively really says something about Tim Hortons. We are talking about a true monopoly here.
Tim Hortons' greatest strength (high turnover rate of its inventory) is also its selling point. Their slogan is: "Always fresh, always Tim Hortons". Since they sell their goods so fast, they have to make "fresh" ones all the time. Indeed, I never had a bad-coffee experience at Tim Hortons. Not surprisingly, the brand is a big part of the Canadian popular culture. To learn how Tim Hortons combines commerce, culture and community read Jeannette Hanna's Ikonica.
Let's get back to the line extension example. Almost six months after rolling out its smoothie line in the U.S. market, Tim Hortons brought the menu item home as a response to growing demand for healthier snacks. According to the company the smoothies are bursting with a "real serving of fruit", though nobody knows exactly what it "really" means. I haven't had a chance to taste these smoothies, as it is still winter in Canada. But, I read consumer comments. Unfortunately, it sounds like the smoothies taste artificially sweet. People don't seem to believe that "real" fruits are used. This is certainly a problem, but nothing that Tim Hortons cannot fix. The brand has been exemplary in improving its products on the go.
When I first heard that Tim Hortons would serve smoothies, I said the concept sounded right. Tim Hortons is about fresh goods and coffee. It has unsophisticated, down-to-earth, unpretentious menu items. Canadians admire such everyday brands that don't overpromise. Also Canadians are health conscious. So, if the brand indeed uses real fruit in its smoothies, it does nothing but to strengthen its brand essence.
7 Place du Commerce, Verdun, QC H3E 1A1, Canada